Catering Your Business Meeting Downtown Hasn't Been Easier, Or Tastier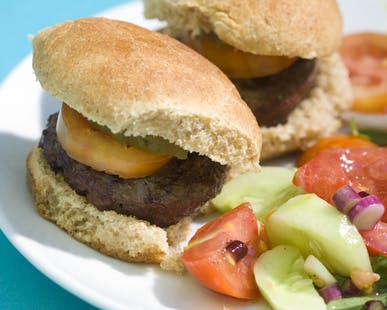 At Simply Grand, we pride ourselves on being a top Cincinnati Corporate caterer – and we're even located downtown! Whatever your staff desires, and whatever pleases your clients, we can make happen for you quickly, easily, and within your budget.
Why Choose Simply Grand Catering In Cincinnati?
Here are eight reasons why Simply Grand is easier and better for the next meal you have at your company.
Ordering Catered Food Is Streamlined
You can visit us — we're right downtown, near Great American Ball Park and Fountain Square — or you can set it up here on our website. Our online catered food ordering process is simple, true to our name.
You Can Repeat Orders Easily
If you would like to set up a monthly or quarterly catering order, we can schedule those dates well in advance. Or, if you would simply like to call back next month and say, "Please do it just like you did last time," or "Just the same, but more chicken," we can do that too.
We Can Set Up Wherever You Need Us
If you want us out on a deck or a patio, or in the park next to your office, no problem. Want us in a conference room or a lobby? Easy. Whatever suits your fancy, we can do for you and your employees or clients.
We Can Change Order Sizes
Have some surprise guests? That's quite alright. We can adjust the size of your order, and the amount of food. If you need to scale back, or if you need to beef up the portions, we can make adjustments without any hassle.
You Can Customize Your Order
Some corporate caterers have quite rigid ordering requirements. You either get the box lunch or the salad. You can't get the hors d'oeuvres AND the buffet. We are not like that. However you would like to mix and match our offerings, we can satisfy your request. We can customize our meals and adjust to your needs. Are there food allergies you weren't aware of? Do you have more vegetarians in your midst than you thought? We can help you with that.
Catered Boxes, Buffets, or Table Service, All Available
Let's say you usually have a buffet, with bakes and casseroles and pasta, but this month, you need to switch it to sandwiches and salads inboxes. Great! Easy. Whether you want your staff to serve themselves with their own plates, and whether you would like our servers to bring the dishes to their tables, we can accommodate you.
Variety Is Our Middle Name
"Simply Variety Grand." It's true. J We offer a seemingly endless variety of options — fresh fruit tray, vegetable crudites, roasted vegetables, cheeses, antipasti, shrimp cocktail, hummus, spinach dip, mac & cheese, pesto, rigatoni, fettuccini alfredo, spaghetti, piccata, carbonara, marsala, beef tips, pasta primavera… (deep breath) Greek pasta, rigatoni bolognese, roasted rosemary red potatoes, rice pilaf, Basmati dill rice, roasted green beans, spring salad, ratatouille, salmon, tilapia, chicken breast, chicken club, smoked turkey, tuna salad, roast beef, ham & swiss, cobb salad, club salad, chef salad, citrus almond salad… variety.
You'll Barely Even Notice Us
We load in and load out quietly and discreetly. Our food service ninjas glide in and serve your whole crew with great stealth. You can barely even tell we are there. Our food service enters and exits with minimal disruption, and with maximum class and style.
Corporate Catering At Its Deliciousness!
When that important business event comes up, contact the pros at Simply Grand Catering. We'll handle all the details, and serve all the food – letting you focus on the biz!