Delicious Catering in Cincinnati – It's Simply Grand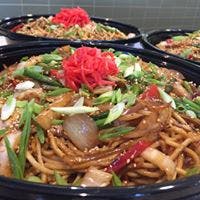 Trying to cover the food needs of a big group is not always easy. Here in Cincinnati, at Simply Grand Café & Catering, we make it easier for you. Finding great catering in Cincinnati is now a straightforward and simple process. Let us handle it for you.
From our wide-ranging lunch choices to our palate-pleasing dinner packages, we at Simply Grand pledge to make your event one that will satisfy even the most finicky eater. Our recipes are time-tested and rich in flavor, offering an array of selections that cover a spectrum of preferences. For diners who are gluten-free, vegan, vegetarian, or Keto, many of our plates will match their dietary needs.
Dinner Catering
Our dinner menu ranges from marvelous pasta dishes – pasta primavera, rigatoni, pesto, fettuccini alfredo, and more – to grilled salmon, tilapia, and chicken breast. Different options are available for groups of 8 and more or groups of 20 and more. These are marvelous options for large dining groups, whether the assemblages are formal or casual. Imagine a restaurant's best offerings, prepared on-site and served by professional servers. This is dinner done with class, style, and panache.
Lunch Catering
We also provide a wide range of lunch options, from entrée chicken buffets – chicken marsala, chicken piccata, and chicken carbonara – to a delightful dish of beef tips with red wine and mushroom reduction. Our pastas are available as luncheon buffets as well. Catering in Cincinnati has never been so varied and flexible. This is a hearty, satisfying set of lunch options. Your guests will jump into the rest of their day with energy and flavor satisfaction.
Boxed Lunch & Sandwich Tray Catering
If you would prefer boxed lunches or sandwich trays, we have a variety of options to suit your needs. Sandwiches include roast beef, smoked turkey, grilled chicken, Santa Fe chicken, ham & swiss, tuna salad, chicken salad, or veggie delight. For meetings, these trays and boxes are sometimes the easiest and quickest option, as we can bring them right to your conference table. For large get-together where the location does not necessarily lend itself to seated eating, this is a very convenient option.
Fresh Salads Galore!
And our delicious salads range from Southwestern Cobb to Chef Salad to Mediterranean and Citrus Almond salads. And Spinach Salad. Oh, and Chicken Caesar Salad! So many options, available as both box lunches or large bowls. These salads are fortifying, healthy, and remarkably tasty. Give your friends and acquaintances the kind of clean, heart-happy fuel that will power them well.
The professionals at Simply Grand have a full range of backgrounds in a variety of cuisines, and we bring this education to bear on our preparation and our menu creation.
We can send an attendant to manage the food at your event, to make everything go as smoothly and effortlessly as you can imagine. Our attendants are polite, good-humored, well-dressed, and efficient, and can make sure your catering goes exactly as you wish. Having real professionals makes a huge difference. A staff that is trained to make your dining experience comfortable, easy, and satisfying — that's what you get when you call Simply Grand.
So if you need catering in Cincinnati, look no further than Simply Grand Café & Catering. We are located right downtown but can travel to anywhere in the greater Cincinnati area. Our number is (513) 381-6000 for catering, or if you would like to call the café, please dial (513) 744-9111. We can't wait to feed you and your guests