Downtown Catering in Cincinnati – Simply Grand Catering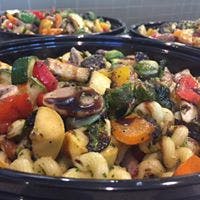 Simply Grand Catering provides downtown catering in Cincinnati to busy professionals. We are experienced in catering small and large events in the downtown area, and this experience enables us to be on time and to deliver our food service when you want and need it. Downtown locations can be challenging for an outside caterer who may not be familiar with efficient access to downtown venues. But have no fear! Simply Grand Catering is located right in Downtown Cincinnati!
Our plan is to always deliver the food quickly from our van to your location whether that is in a high rise or a lower level building. Our familiarity with the downtown Cincinnati area ensures our customers that we will not have any problem delivering our delicious fresh food to your location.
Catering Specialists Located Right Downtown!
Often, downtown catering in Cincinnati requires a special menu since the event may involve important clients and customers. If the event is an office party for your staff, we recognize that part of the appreciation involved in that event is the high-quality food that we prepare. The food we prepare will make your staff or other guests feel very special. Simply Grand Catering will also cater to working luncheons for seminars and day-long meetings – we even offer boxed lunch options which are perfect for breakout sessions. Our catering style is designed to meet your needs and our reputation is built on using the freshest and the highest quality food, which enables us to provide delicious and mess-free food service.
The Simply Grand Catering staff is conscious of the need to take our hospitality to the highest level. This shows in the appearance of our staff and the courteous service they provide. If our catering service provides on-site assistance, then the staff will impress your guests, which in turn makes your organization recognized as one that cares about its important guests.
For large gatherings, of 20 people are more, please check our Luncheon Buffet options. The entrees are delightful. Succulent, moist, perfectly seasoned entrée options, including:
– Chicken Carbonara (the bacon and cream sauce is absurdly lovely)
– Beef Tips with Mushrooms (in a red wine and mushroom reduction that we are very proud to have as unique to the Simply Grand menu offerings)
– Chicken Piccata (with a lemon-caper and white wine butter sauce that is just the right balance of tart and zest)
– Chicken Marsala (in a sauce that our gourmet chefs developed over years of practice in the culinary arts, with a soupcon of wine to bring that rich, dark, savory delight to the dish)
We also offer a set of satisfying, comforting pasta dishes that are guaranteed to bring a smile. Spaghetti Pesto with grilled chicken and asparagus, Pasta Primavera featuring zucchini, tomato, and bell pepper, and Rigatoni Bolognese with has a mildly-spiced Italian sausage that will make you think you are at a restaurant in Firenze or Venezia.
The Greek Pasta offers just the right Mediterranean zest, with olive oil and garlic mingling with the Feta cheese and those Kalamata olives.
Our menus are planned around your budget and any special dietary needs your guests have. Great fresh food and refreshments are the heart of our catering business. We offer a buffet or sit down service with full course menu options. For downtown catering in Cincinnati Ohio, make your order online today!