Fresh Lunch in Downtown Cincinnati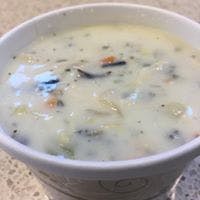 At Simply Grand, we know you don't have a lot of time to spare at lunch. We get your orders ready for you quickly, our staff is at the ready and prepared for your requests. We offer a quick, casual, and delicious option for your downtown lunch.
Cincinnati's Downtown Spot For Lunch
Our menu features a wide range of delicious and filling salads, ranging from Citrus Almond (with chicken, feta, mandarin oranges, and dried cranberries) to Spinach Salad (with chicken, tomato, and hard-boiled egg). The Mediterranean, Chef, Tuna, Chicken Caesar, and Southwestern Cobb salads provide plenty of healthy variety as well.
As far as sandwiches go, Simply Grand has a delicious array on many breads – Italian roll, wheat, rye, white, and Ciabatta.
Whether you prefer chicken, roast beef, ham, turkey, or veggies, our sandwiches are ready to delight you and your lunchtime crew.
We love the fact that downtown Cincinnati is such a walkable area. Whether you work downtown, are hitting the attractions of the riverfront, or are just visiting from elsewhere, we hope you take advantage of the lovely strolls available in Cincinnati's historic downtown. At Third and Sycamore, stop by for a refreshing and delicious meal at Simply Grand as well.
Sandwiches and Salads: It's what's For Lunch!
Our sandwiches and salads are a burst of flavor combinations — filling enough to power you through your day, but healthy enough that you leave feeling energized and not sluggish.
As a convenient, welcoming, centrally located place to meet friends, Simply Grand can't be beaten. Being so close to the river, and to the stadiums, Simply Grand is an ideal meeting place for catching up with friends and business associates. We enjoy hosting parties both big and small, and we take pride in making your lunch a hearty and satisfying meal.
Having a walkable, easy, quick option for lunch in downtown Cincinnati is something we have wanted to see for years, and we are thrilled to provide that for you. Given the proximity to light rail stations, and the ease of access to Main, Walnut, Sycamore, Broadway, and Vine Street, the location is perfect to meet up with friends who work elsewhere downtown.
You can enter Simply Grand through the Queen City Square lobby, or from Third Street. We are right across the street from the Great American Ball Park and just one block south of the Taft Theatre. We look forward to seeing you for lunch at our downtown Cincinnati café!