Nine Significant Dates in Cincinnati History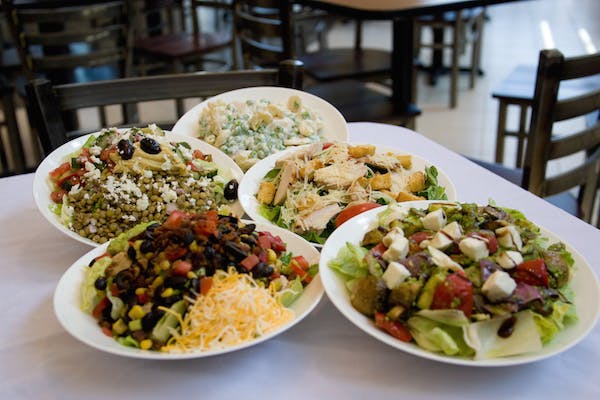 Here are nine momentous years in the history of our beloved Cincinnati. And since we are a catering company, we will also mention ten featured treats from our catering menu.
1789 - Settlers build Fort Washington
General Josiah Harmar ordered the fortified stockade to be build above what is now Fort Washington Way. The fort faced the mouth of the Licking River, near the Ohio River. It was a major staging place and conduit for troops, settlers, and supplies during the settlement of the Northwest Territory. Fourteen years later, the fort moved to Newport, KY, as the "Newport Barracks."
Matching menu item: the grilled chicken Caesar salad


1819 - Cincinnati College is founded
We know it nowadays as UC, the second-largest university in the state of Ohio, but it is Cincinnati's oldest institution of higher learning. It was founded at the same time as the Medical College of Ohio, on land donated by William Lytle, who was the university's first president. If you ever want to take a sack lunch to UC, a perfect place to fill your food order is at Simply Grand Café.
Matching menu item: the smoked turkey on wheat, to go


1849 - Cincinnati becomes the first US city to hold a municipal song festival: Saengerfest
The Saengerfest is a German tradition that celebrates "Saengerbunds," or choral singing groups. Cincinnati held the first one, bringing together choirs from Louisville, Indianapolis, and across the Tri-state. Thirty years later, the New York Times called Cincinnati's Saengerfest "worthy of comparison with the Mardisgras of Southern Cities." The annual festival continued until 1952, and then was largely subsumed by the May Festival. In 2013, Saengerfest returned, on the weekend of December 1-2, at six locations: Christian Moerlein, St. Francis, Over-the-Rhine Community Church, Prince of Peace Lutheran Church, First Lutheran, and Memorial Hall. The festival is annual once again. You know what goes great with choral music? Sandwiches from Simply Grand.
Matching menu item: the veggie delight sandwich


1867 - Cincinnati Conservatory of Music is founded
The original CCM, which merged with the College of Music of Cincinnati in 1955, was part of a girls' finishing school. Notable alumni include singer Tennessee Ernie Ford, trumpet player Al Hirt, jazz piano player Pat Moran McCoy, and composer Conlon Noncarrow -- best known for his studies for player piano.
Matching menu item: the grilled chicken taco salad


1869 - Cincinnati Reds begin playing
The Reds have won five World Series titles, and nine National League pennants. Simply Grand Café is right around the corner from Great American Ball Park, where the Reds play. Before or after a game, it's an ideal spot to grab a hearty meal downtown.
Matching menu item: the club sandwich


1905 - Mahler's fifth symphony has its US premiere in Cincinnati
The much-loved symphony was conducted by Frank Van der Stucken. Before that Cincinnati premiere, the only other performance had been in Cologne, conducted by Mahler himself.
Matching menu item: the Mediterranean salad


1933 - Union Terminal opens
At that point, Cincinnati had five train stations serving seven railroads. It went on to experience its peak traffic during World War II. The Terminal's beautiful art deco design helped earn it its designation as a National Historic Landmark.
Matching menu item: the home fries, eggs, and bacon breakfast bowl


1952 - First heart-lung machine is developed at Cincinnati Children's Hospital Medical Center
Open-heart surgery would not be possible without the heart-lung machine, and it was first developed here in Cincinnati.
Matching menu item: the citrus almond salad


2016 - FC Cincinnati begins play in the United Soccer League
FC Cincinnati's launched was followed by a move to join Major League Soccer (MLS). The team made its MLS home debut against the Portland Timbers on March 17, 2019.
And, before you head out to Nippert Stadium to cheer on FC Cincinnati on a weekday game, we encourage you to eat at Simply Grand Café for lunch! Our robust, varied menu features marvelously flavorful offerings, and a bright, cheery place to meet up with your friends – and we are BIG FC Cincinnati fans!
Matching menu item: the breakfast sandwich on English muffin