Our Box Lunches and their Secret Names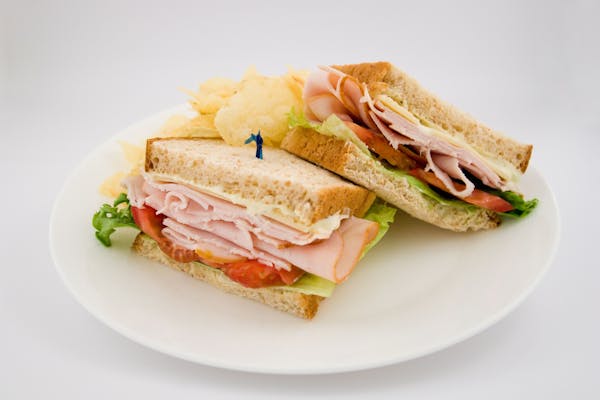 What our lunches' alternate identities say about them is an enigma. These are, after all, delicious box lunches. But perhaps these aliases tell us something?
Here at Simply Grand Café and Catering, we hold our box lunches in high regard. Such high regard that we start to give each of them their own personalities. Yes, we tend to anthropomorphize these delicious and nutritious meals, to such an extent that they begin to feel like old friends.
"Ah! Great to see Smoked Turkey out in her full regalia this afternoon!"
"That Italian Club sure has fantastic taste in music. He put on this Frank Sinatra album, right?"
And while each of the box lunches naturally begins to take on personality traits -- humor, compassion, curiosity, a love of caricature -- we try to learn more about the worlds of these beloved meals.
This exploration led us to find the "other" names of the box lunches.
Unique Box Lunch Sandwiches at Simply Grand
If you scramble the letters of each lunch's name, you find their secret alternate identities. Each alias reveals a bit more about the subtle and detailed lives of these delectable treats.
So what did we learn about these box lunch sandwiches?
THIEVED GIGGLE (Veggie Delight). She's a prankster, the veggie delight. A stolen snicker, a surreptitious chuckle, and a bevy of fresh and satisfying plant proteins. The vegetables on this classic sando enjoy both witty repartee and slapstick.
HANDSAW MISS (Ham and Swiss). The ham and swiss is a durable, rugged sandwich. She has stood the test of time, and this is partly due to her abiding love for do-it-yourself carpentry. The Handsaw Miss is quick with a two-by-four, and can turn a chunk of wood into a handy tool in minutes flat.
MUD KEYSTROKE (Smoked Turkey). She's an outdoorswoman, the smoked turkey. She loves campfires, and can pitch her tent in any terrain. She goes great with s'mores, and enjoys nothing more than laying out in the woods, watching the night sky. She also likes to write about her forest escapades, so late at night, you may hear crickets, and owls, and the rapid tapping on her laptop keyboard.
BELCHED LICKING CURL (Grilled Chicken Club). In some countries, it is considered a compliment to the chef to belch after a meal. Don't tell this to the grilled chicken club. We'd never hear the end of it. The grilled chicken club is always up for a good time. Gregarious, outgoing, loud, and effortlessly charismatic.
BOARS FETE (Roast Beef). Partying pigs? We suppose it makes sense for pigs to appreciate roast beef being on the menu -- after all, it's not pork. Or ham. Or bacon.
LUNATIC BAIL (Italian Club). He's a wild one, the Italian club. Ready to celebrate, at the drop of a hat.
But what of our fine, fine salads? Those salad box lunches have lives of their own, of course.
CUSS WISE BALLAD (Weiss Club Salad): A crooner of ancient folk melodies, the Weiss Club Salad can break your heart with her timeworn, profane tales of love and adversity.
CALF HEADS (Chef Salad): We promise that no young cows are ever involved in the making of a chef salad. By "calf heads," we're talking about "fans of calves." The chef salad is known to travel from city to city, following a calf on tour and dancing.
CAULDRON MIST (Citrus Almond): Shrouded in mystery and esoteric knowledge, the citrus almond can read a tarot deck like nobody's business.
INNATE DREAMER (Mediterranean): Our favorite of the box lunch salads may be the Innate Dreamer. Never give up on the aspirations of the innate dreamer. Keep reaching for the sky, kiddo.