The Game of Running a Café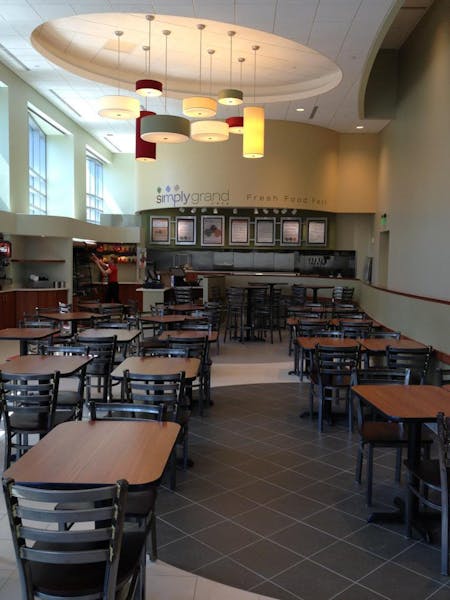 Running a place like Simply Grand Café here in Cincinnati is fun. (And we are, ahem, conveniently located right around the corner from Fountain Square in downtown Cincinnati.) It is also challenging making Simply Grand work. It can be an action-packed day, feeding hundreds of satisfied Cincinnatians. It is not easy work, and it requires a great deal of energy, but it is satisfying and interesting work.
Certainly, at times it feels like spinning plates. (Figuratively speaking.) Cooking, preparing the side dishes, and making sure everyone's order comes out perfectly -- that all requires some serious multi-tasking skills.
So we cannot say that we were surprised to find running a café turned into a game. An actual game.
"Café Panic," made by a company called Crazy Games, calls itself "a brilliant game of café management." You are the barista behind the counter, and you must take each customer's order. Then you must prepare each order, and do so to their liking. Each order needs to be turned around quickly, and you cannot let the customer line get line. Don't keep anybody waiting!
And yes, the game is worth taking for a spin. It is a phone app, for iPhones and Androids.
Admittedly, since most of us working in cafes are prone to having nightmares about long lines and complicated café orders, this game may cause anxiety. We can't say that we're likely to unwind after working in a café by… working in a café on our phones. However, if you enjoy this type of game, we encourage you to try it on for size. Throw it against the wall and see if it sticks, as it were.
Would you like to see how it's played? OGL Gameplays did a handy-dandy thirteen-minute walkthrough.
As you will see, you can play as Justin or Taylor. Taylor is female. Both Justin and Taylor wear glasses, further perpetuating the stereotype of baristas as bookish types. Not that we mind, necessarily, just taking note.
As you unlock new levels of achievement, the orders become increasingly complicated. The customers come in faster and faster.
You complete each day, and do a little self-congratulatory, fist-in-the-air "hurrah!" as you finish the day's shift. We can relate! I enjoy celebrating after a successful shift too. Who doesn't?
We can only imagine what other jobs will soon become phone games. Candy Crush will make way for "How fast can you replace all the fluids in this 2009 Dodge Caravan?" Tetris might soon be replaced by "packing the trunk of the car before a long road trip."
That said, we do encourage you to come down and break bread with us at Simply Grand Café. It's a lovely spot, right down the block from Great American Ball Park. We serve a wide variety of satisfying, hearty meals, and it's a great place to meet up with your friends while you grab breakfast or lunch before (or in the middle) of the work day.
We can't promise that lights will go off over our heads after we successfully complete an order -- that happens in Café Panic -- but we can attest that our staff is super-friendly, fun, and hospitable. Just say the word, and we can customize the order to whatever you may desire. Simply Grand makes fantastic food, and we love sharing it with you. Head on down and enjoy a bake, a casserole, a salad, a sandwich, or all four at once if you're feeling peckish.