The Joy of Accepting Great Service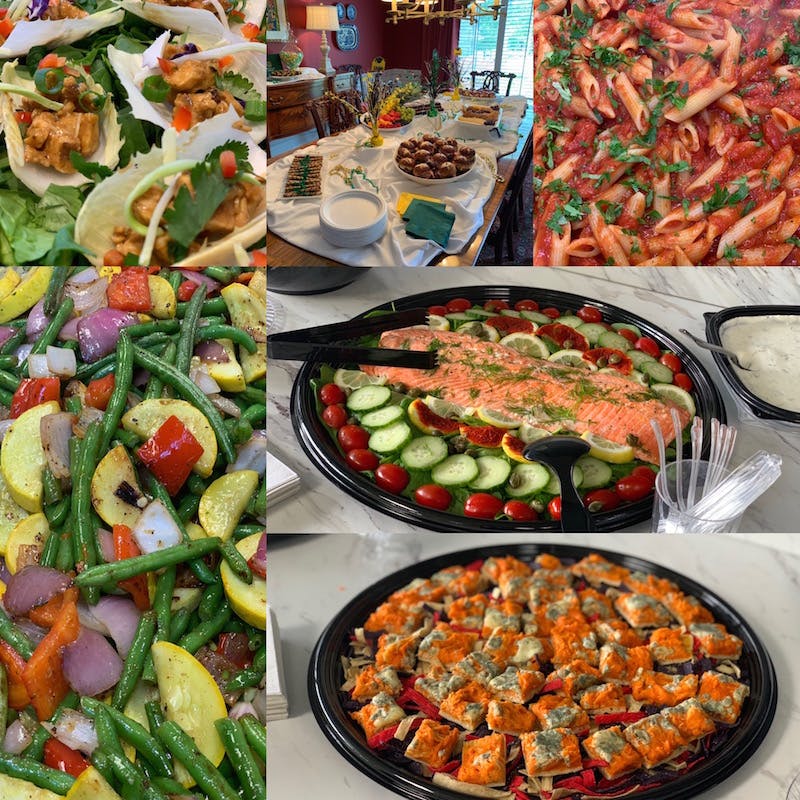 Let's say you are having a party.
Would you rather be running back and forth from grill to kitchen counter, plating up various courses and keeping your guests sated… or would you rather just talk with your guests and hang out?
Would you rather be thinking about temperatures of various dishes, carrying serving trays to and fro, and collecting dirty plates… or would you rather have a few glasses of wine and enjoy the company of your friends and family?
Serving your own food is great. But, sometimes, the best thing you can do as a host or a hostess is to be present for your partygoers. To listen to their stories, tell them jokes, and not need to worry about the logistics of food preparation.
It is a marvelous treat to have servers on hand. Simply Grand's catering staff can be there on hand, strolling the crowd with plates of hors d'oeuvres. Our friendly and alluring servers can cater to your every whim. Having the well-dressed service staff on hand ups the "fancy quotient" of your party by several notches right away.
And truly, having those aspects of the party covered – the preparation and delivery of multiple courses – relieves so much stress and worry for you, that you can just relax and be the kind of laid-back, talkative, engaged host that you've always wanted to be.
Hiring Simply Grand for your catering is about more than having food there. It's about treating your guests – and treating yourself – to a certain level of deluxe pampering.
After a long month of working long days and nights, what feels better than to have someone serve you for a few hours?
We talk about self-care when it comes to massages and spa days and manicures, but what about self-care when it comes to entertaining?
Indulge yourself a bit, and delegate some authority. Offload some of those cares onto the able shoulders of our chefs and servers. Let yourself enjoy your own party.
And finger foods! What a beautiful modern indulgence is the joy of a finger-food tray being carried about a room of cocktail-sippers. The strolling servers making the rounds, making sure every person in the room is well-fed and taken care of.
Remember what it felt like the last time you were a guest, and a server walked up to you with a tray of crudites or hors d'oeuvres. It made you feel like a star, right?
The point is, it is quite affordable to elevate your next social gathering to the realm of "marvelously classy" and "deluxe to the point of pampering." Give us a shout here at Simply Grand Catering, and we can tell you what is possible for your price range and the number of guests.
The New Year is a time of generosity and hospitality, and in that spirit, consider giving your guests a celebration that treats them like royalty. Usher in 2020 with a catered feast.
Simply Grand is based in downtown Cincinnati, and we serve the entire Tri-State region. Our party trays, casseroles, bakes, and deluxe entrees can fit any occasion and any set of dietary preferences.
Send us a message and let us know what you are considering, and we can prepare a quote for you. Our clients recommend us highly, and our food has graced the tables of many of Cincinnati's finest establishments.